---
400 Seat Capacity
The Royal is a completely renovated, multi-function facility which offers a "State of the Art" Dolby calibrated re-recording mix stage combined with a 400 seat venue complete with Digital and 35mm projection, Remote HD video recording and live streaming capability.
live / streaming shows
seminars
conferences
live podcasts
live comedy
live concerts
The Royal is a 400 soft seat facility with in-house audio, lighting, video, fibre optic internet, and cable TV access. See below for technical specs.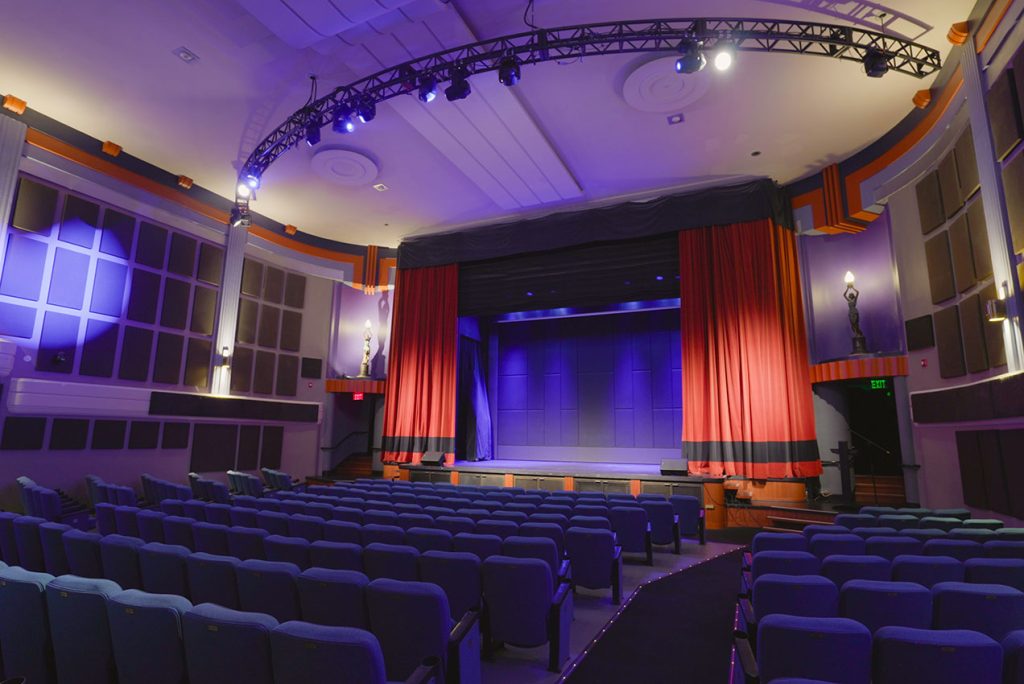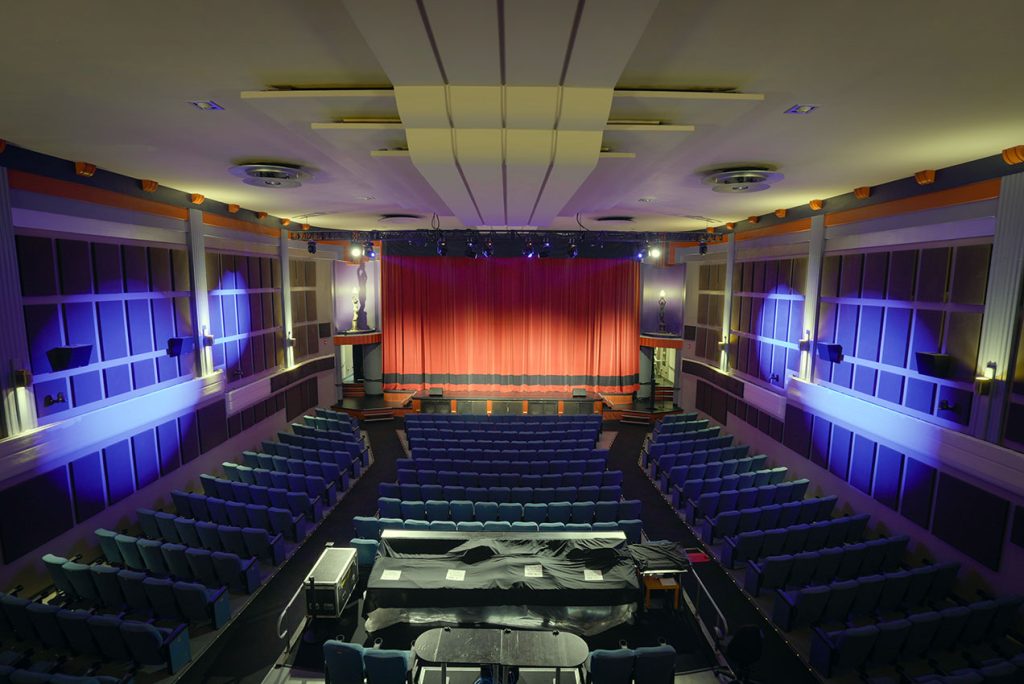 ---
Bottega Volo: Fine Food Available In-House
The Royal has incorporated Bottega Volo, well-known purveyors of fine foods and beverages, into the foyer. Visitors can enjoy high end concessions while attending The Royal Theatre. See the Bottega Volo menu here.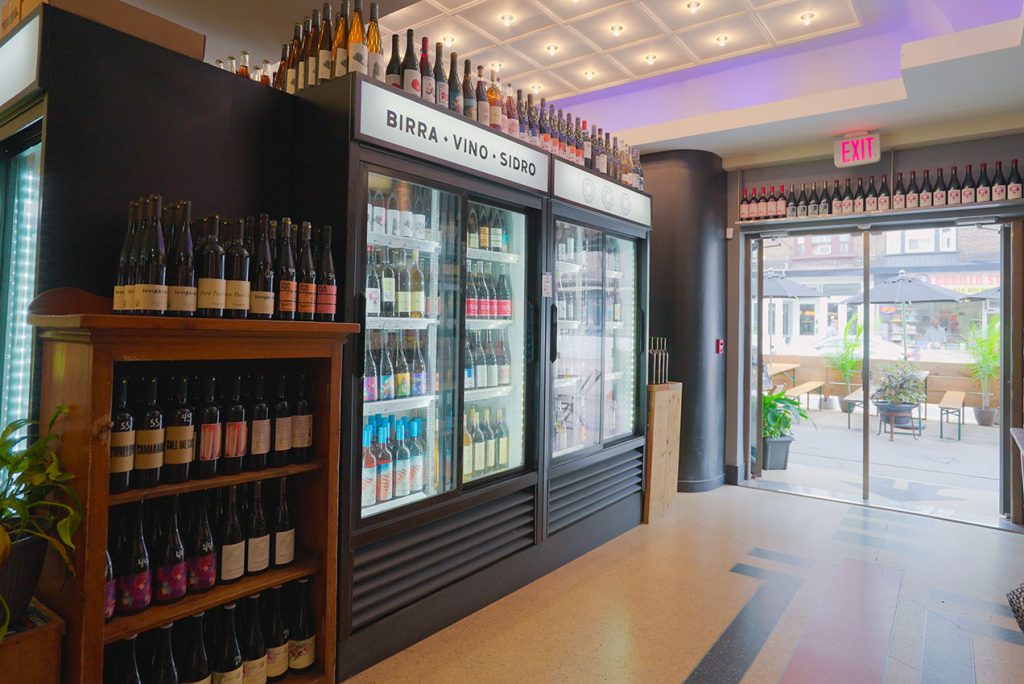 ---
Theatre Technical Specs
Projection
Approximate Screen Dimensions – 30' X 15'
Christie Digital CP2000 2k 4:4:4 Projection
Matte white zero-gain cinema screen
Non-Linear HD and SD Quicktime capabilities
35mm Film Projection
Formats:
Dolby Digital Cinema Package player (DCP),
35mm Film (Dolby Digital),
Blu-Ray,
DVD,
Quicktime,
Suite-to-Theatre straight from Avid or Final Cut Pro
Audio
Existing Audio equipment:
EAW Cinema Series CSC 723 Three-Way LCR
EAW CR72i Surrounds
QSC Amplification
Ashly Protea Processors
5.1 and 7.1 Film Mixing/Dubbing
Mixing Console – Dual Operator Avid ICON D-Control w/MultiMode Capabilities
3 X Pro Tools HD Accel allows for up to 576 tracks, expandable to 8 systems/1,536 tracks
Yamaha MGP32X 32-Input Hybrid Digital/Analog Mixing Console
Live recording with up to 24 microphone inputs.
Rental Audio System (available on request) at additional charge.
Loud Band:
D&B V8 loudspeaker NL4
D&B V-SUB 18″ Subwoofer NL4
D&B B22 Dual 18″ Subwoofer NL4
A&H 24ch Digital Mixer
A&H 16in 8out Stage Box
Plus microphone package and in-ear monitor system
Jazz or Soft Rock:
D&B Y10P Loudspeaker
K&M Speaker Distance Pole
D&B V-SUB 18″ Subwoofer NL4
A&H 24ch Digital Mixer
A&H 16in 8out Stage Box
Plus microphone package and in-ear monitor system
Lighting
The Royal has an upstage and downstage truss. There are options to fly a mid-stage truss at an additional cost.
The in-house fixtures comprise of 18 – LED automated wash fixtures and 04 – LED automated profile fixtures. sACN control is installed, venue lighting desk is Obsidian software and tactile control surface.
The system is configured for additional lighting if required.
Video
The Royal has an in-house video system consisting of 04 – robo cameras, 01 – remote camera, switcher, (Note: The switcher has the capacity for 3 additional cameras), full video and audio recording abilities, fully compatible internet streaming. Motorised upstage full stage screen (26'w x 17'h) with compatible wide-angle projector mounted in proscenium arch allowing for unobtrusive video playback.
Production & Dressing Rooms
There are two office spaces for production with full internet access, complete with large desk, couch, and chairs.

There are two small dressing rooms, stage left and stage right. Each features a shower, dressing table, lighted vanity, and washroom. There is an option for a large dressing room at the front of the theatre.
Power Specs
Power specs can be found in the Tech Drawings tab.
Support Staff
All personnel and/or equipment extraneous to The Royal comes in at the renter's expense, such as technical staff, security, or ushering.
Tech Drawings
Mixing Studio
Classic AVID Digidesign control surface for dual operators
Latest ProTools Ultimate
Two M1 Max chip MacStudios
Dolby 5.1/7.1 theatrical mixing environment
---
Book The Royal Theatre